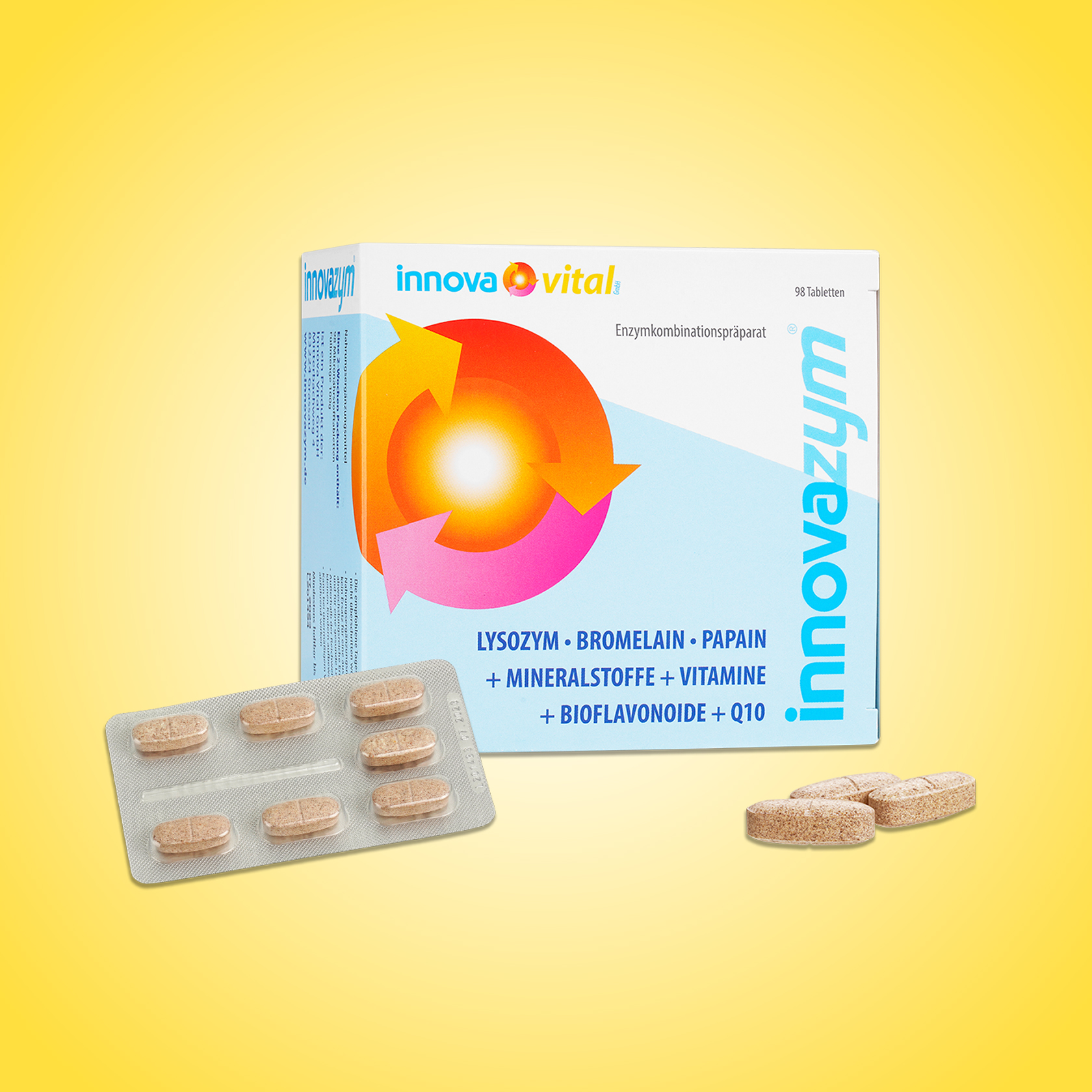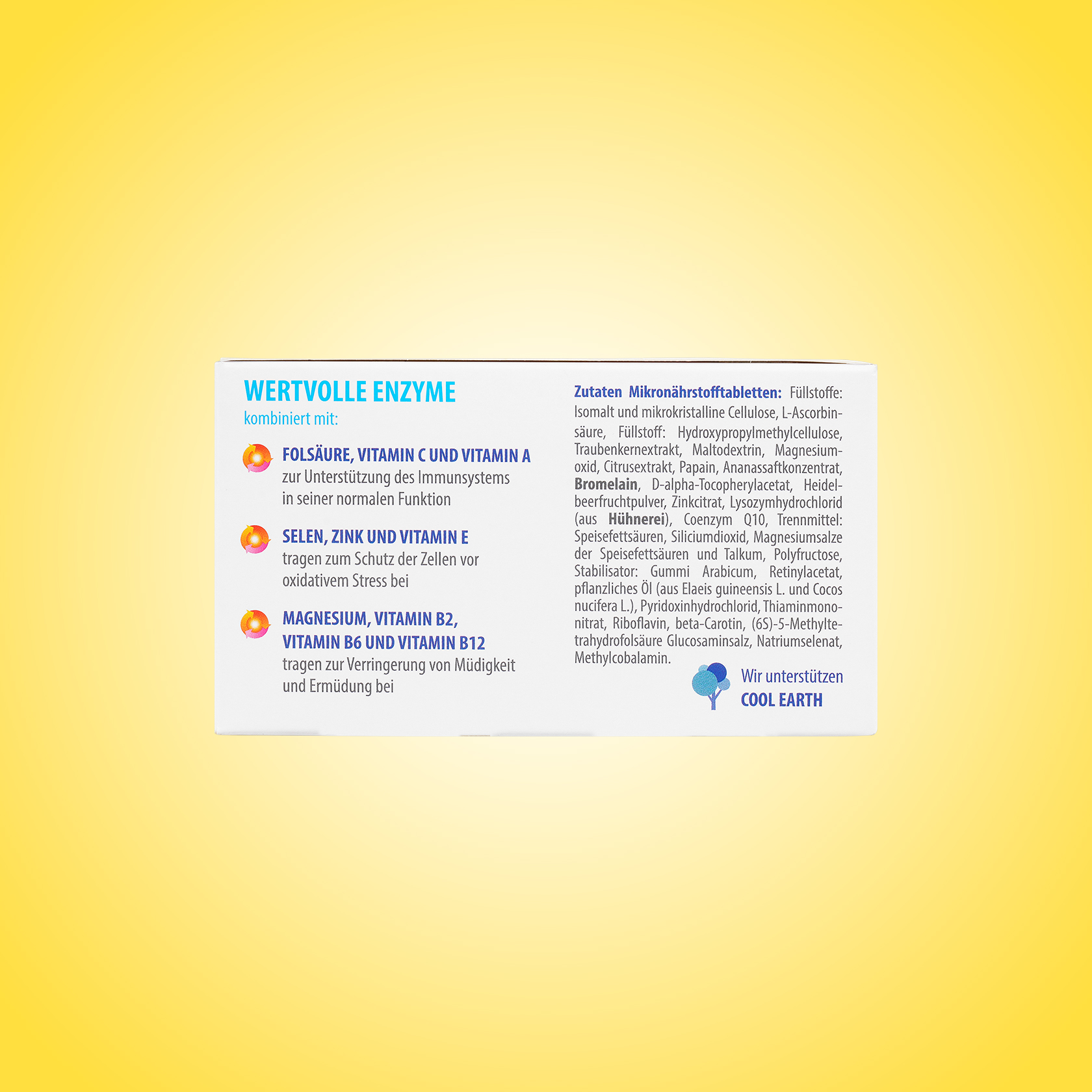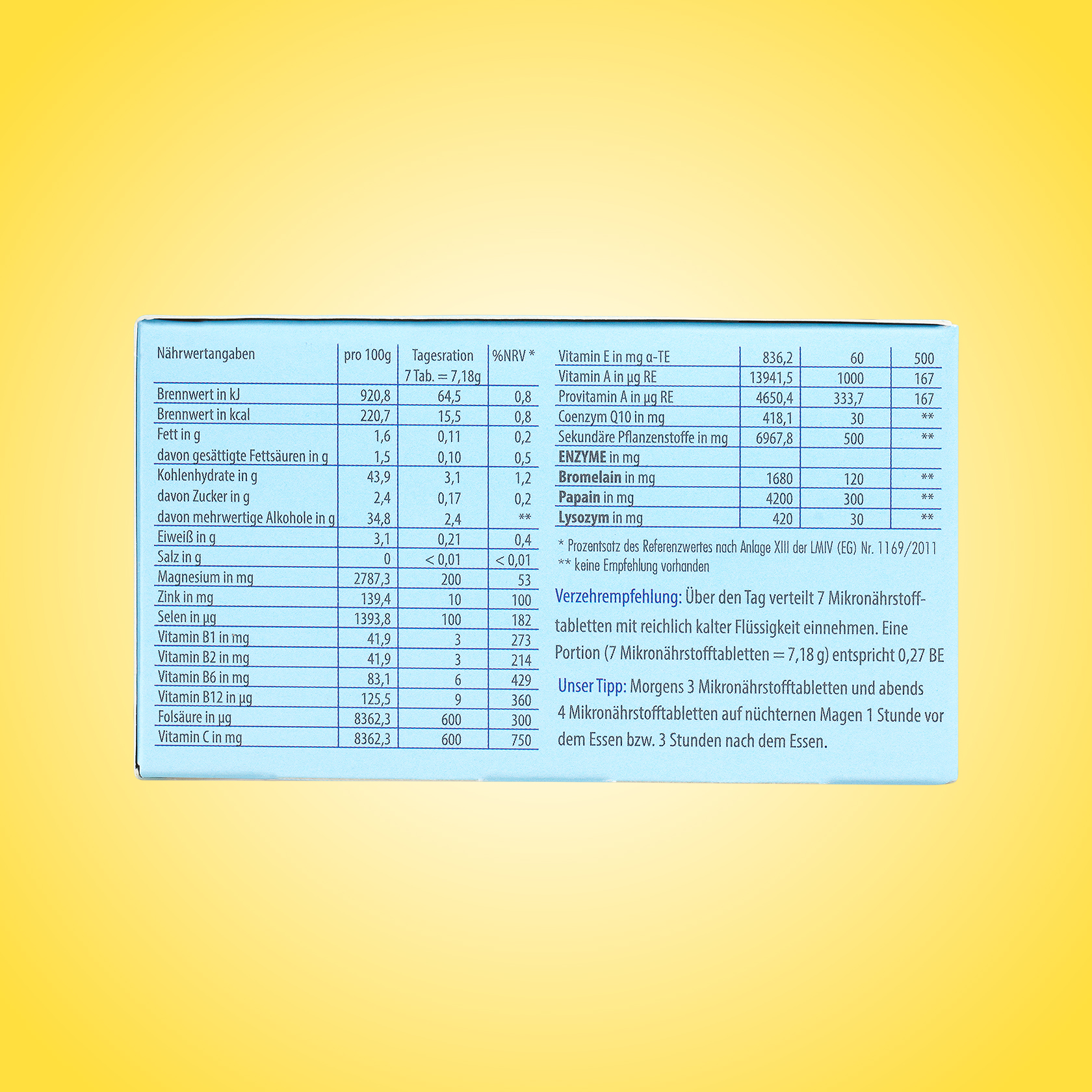 innovazym®
One tablet innovazym®
contains at least 150.400 F.I.P.-Units

2-week package with 98
micronutrient tablets
All-round care every day for 14 days.

Available, delivery time 1-3 days
To support the immune system
In cases of:

back pain
common colds
intense sporting activities and sporting injuries
high job-related stress phlebitis
Improve wound healing Strengthen my brain and heart function
Support before and after medical intervention
Products for chronic complaints
More energy for body and mind
Products for more quality of life - "Better Aging"
More mobility for my joints
Products for athletes and active people
The first combination developed in nutrition medicine containing highly dosed:
enzymes
vitamins
vital substances
Q10
bioflavonoids
per 100 g
per daily ration
7 Tabs =
7175 mg
%NRV*
Calorific value in kJ
920,8

per 100 g

64,5

per daily ration

0,8

%NRV*

Calorific value in kcal
220,7

per 100 g



15,5

per daily ration

0,8

%NRV*

Fat in g
thereof saturated fatty acids in g
1,6

per 100 g


1,5

per 100 g

0,11

per daily ration


0,01

per daily ration

0,2

%NRV*


0,5

%NRV*

Carbohydrates in in g
thereof sugar in g
thereof polyhydric alcohols in g
43,9

per 100 g


2,4

per 100 g


34,8

per 100 g

3,1

per daily ration


0,17

per daily ration


2,4

per daily ration

1,2

%NRV*


0,2

%NRV*


**

%NRV*

Protein in g
3,1

per 100 g

0,21

per daily ration

0,4

%NRV*

Salt in g
0

per 100 g

< 0,01

per daily ration

< 0,01

%NRV*
* Percentage of reference value acc. to annex XIII of LMIV (EG) No. 1169/2011
** No recommendation available
Premium natural ingredients

highly active enzymes (bromelain, papain, lysozyme), no animal enzymes from cattle or pig (except for innovazym® CA) produced without genetic engineering, nanotechnology or animal testing
the efficacy of all ingredients has been proven by studies
due to the unique combination concept all ingredients are highly effective
Filling agents: isomalt and microcrystalline cellulose, L ascorbic acid, filling agent: hydroxypropylmethylcellulose, grape seed extract, maltodextrin, magnesium oxide, citrus extract, papain, pineapple fruit powder, bromelain, D alpha tocopherol acetate, blueberry fruit powder, zinc citrate, lysozyme hydrochloride (from chicken eggs), coenzyme Q10, parting agents: stearic acid, silicon dioxide, magnesium salts from fatty acids, mono and diglycerides from fatty acids and talcum, polyfructose, stabiliser: gum arabic, retinyl acetate, vegetable oil (from elaeis guineensis L. and cocos nucifera L.), pyridoxine hydrochloride, thiamine mononitrate, riboflavin, beta carotene, pteroylmonoglutamic acid, sodium selenate, cyanocobalamin.
May have a laxative effect if taken excessively.
Recommendation for use:
Take 7 tablets throughout the day on an empty stomach 1 hour before meals or 3 hours after meals with enough cold liquid
Our tip:
3 tablets in the morning
4 tablets in the evening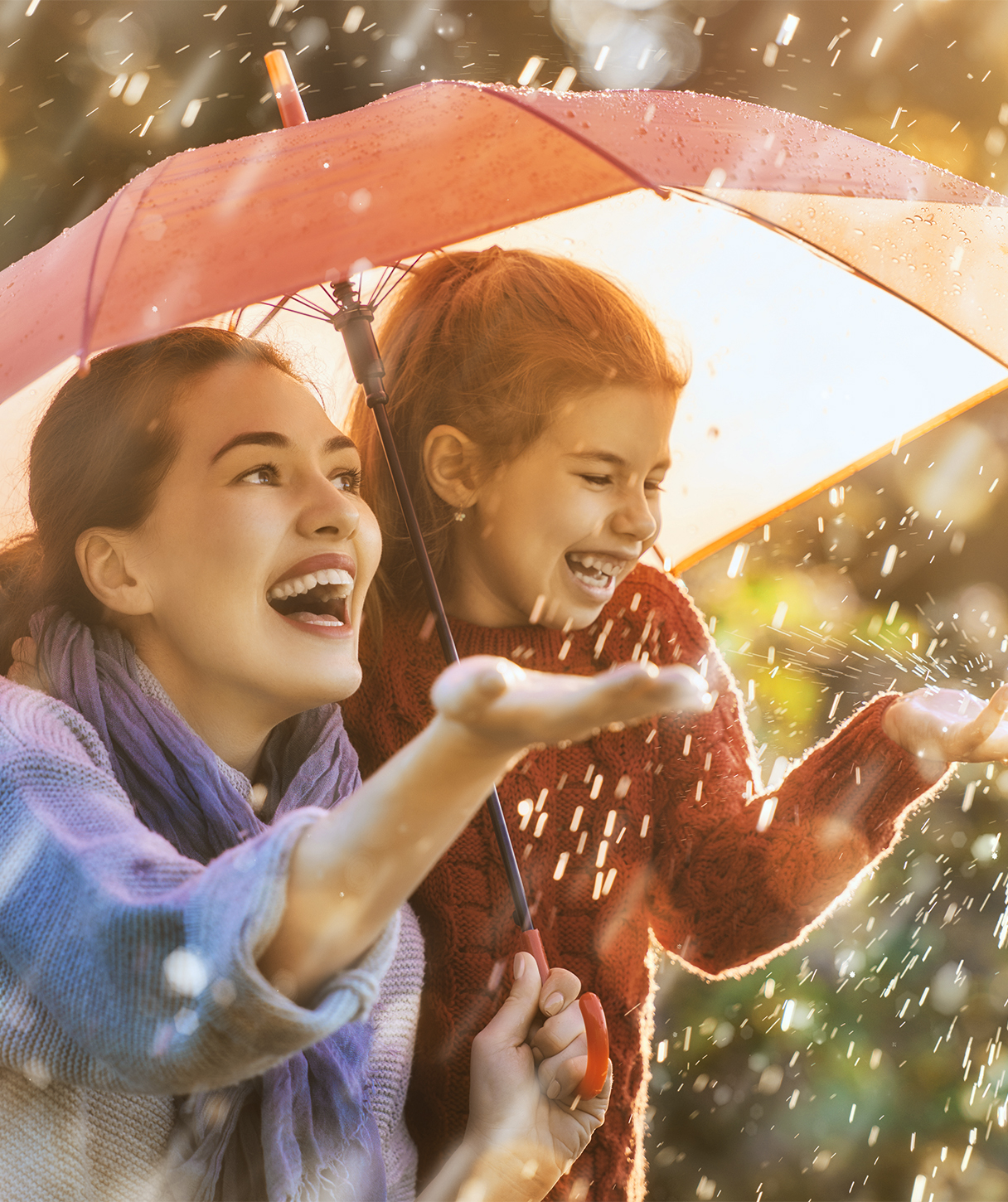 innovazym® supports your immune system in many tasks
Staying fit and active into old age – who would not want that? However, the present time puts a lot of strain on us which negatively affects our immune system and our cells. Whether it is professional stress, unhealthy food, smoking or the hectic of everyday life – the signs of stress can often be seen by accelerated aging. In this case, enzymes can support the body's repairing mechanisms, the cells regenerate faster, the immune system is activated and the metabolism is more effective. They also act as free radical catchers in the body. This increases resilience, inner well-being and the external aging process can be slowed down. The skin gets better since the formation of wrinkles is delayed, the skin's elasticity is increased and the complexion is fresher. Optimal is a combined intake of enzymes with micronutrients which are also called coenzymes (vitamins, vital substances, minerals) and necessary for the enzyme's efficacy.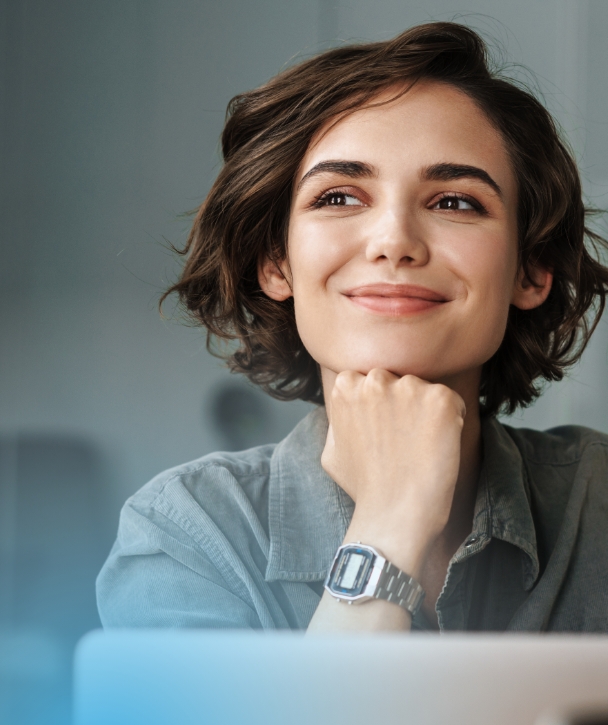 Full enzyme power in FIP
The effectiveness and potency of an enzyme product is measured according to the units of enzymatic activity. Internationally, the units defined by the Féderation Internationale Pharmaceutique (F.I.P.) are widely accepted.
FIP units per daily dose (7 tablets) for innovazym® pure, innovazym® and innovazym® PLUS:
Lysozym 30 mg: 1.051.050 FIP
Papain 300 mg: 1.113 FIP
Bromelain 120 mg: 720 FIP
Measured in FIP units, innovazym® is the highest dosed enzyme preparation on the German market.
Total FIP activity:
1.052.883
(more than 1 million highest FIP activity)
The concentrated enzyme and vitamin power
Enzyme in mg
per 100 g
per daily ration
7 Tabs =
7175 mg
%NRV*
Bromelain
1680,0

per 100 g

120,0

per daily ration

**

%NRV*

Papain
4200,0

per 100 g

300,0

per daily ration

**

%NRV*

Lysozym
420,0

per 100 g



30,0

per daily ration

**

%NRV*

Coenzyme Q10 in mg
418,1

per 100 g

30

per daily ration

**

%NRV*

Secondary plant compounds in mg
6967,8

per 100 g

500

per daily ration

**

%NRV*

Magnesium in mg
2787,3

per 100 g

200

per daily ration

53

%NRV*

Zinc in mg
139,4

per 100 g

10

per daily ration

100

%NRV*

Selenium in µg
1393,8

per 100 g

100

per daily ration

182

%NRV*

Vitamin B1 in mg
41,9

per 100 g

3

per daily ration

273

%NRV*

Vitamin B2 in mg
41,9

per 100 g

3

per daily ration

214

%NRV*

Vitamin B6 in mg
83,1

per 100 g

6

per daily ration

429

%NRV*

Vitamin B12 in µg
125,5

per 100 g

9

per daily ration

360

%NRV*

Folic acid in µg
8362,3

per 100 g

600

per daily ration

300

%NRV*

Vitamin C in mg
8362,3

per 100 g

600

per daily ration

750

%NRV*

Vitamin E in mg
836,2

per 100 g

60

per daily ration

500

%NRV*

Vitamin A as RE in µg
Provitamin A as RE in µg
13941,5

per 100 g


4650,4

per 100 g

1000

per daily ration


333,7

per daily ration

167

%NRV*
* Percentage of reference value acc. to annex XIII of LMIV (EG) No. 1169/2011
** No recommendation available
Recommended products