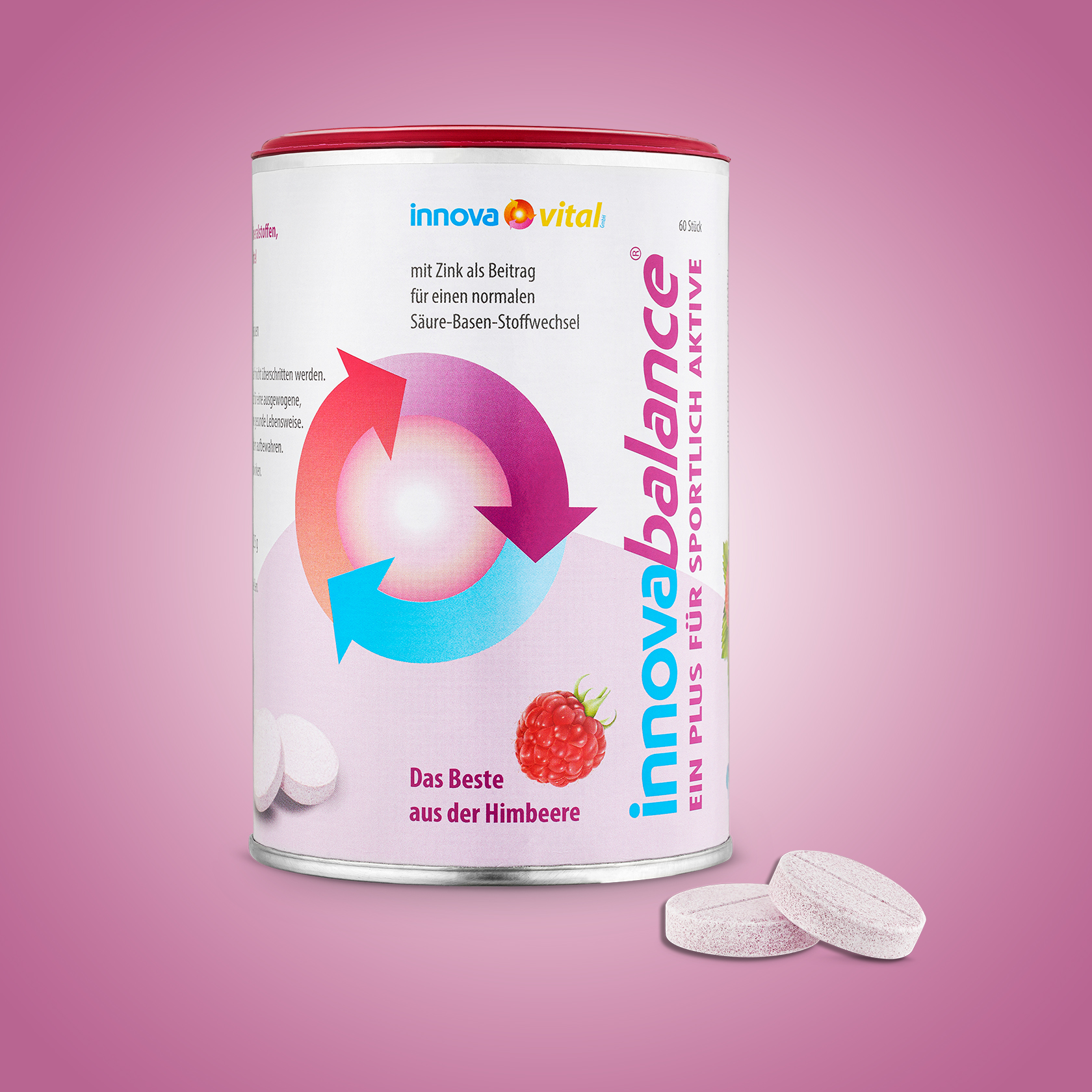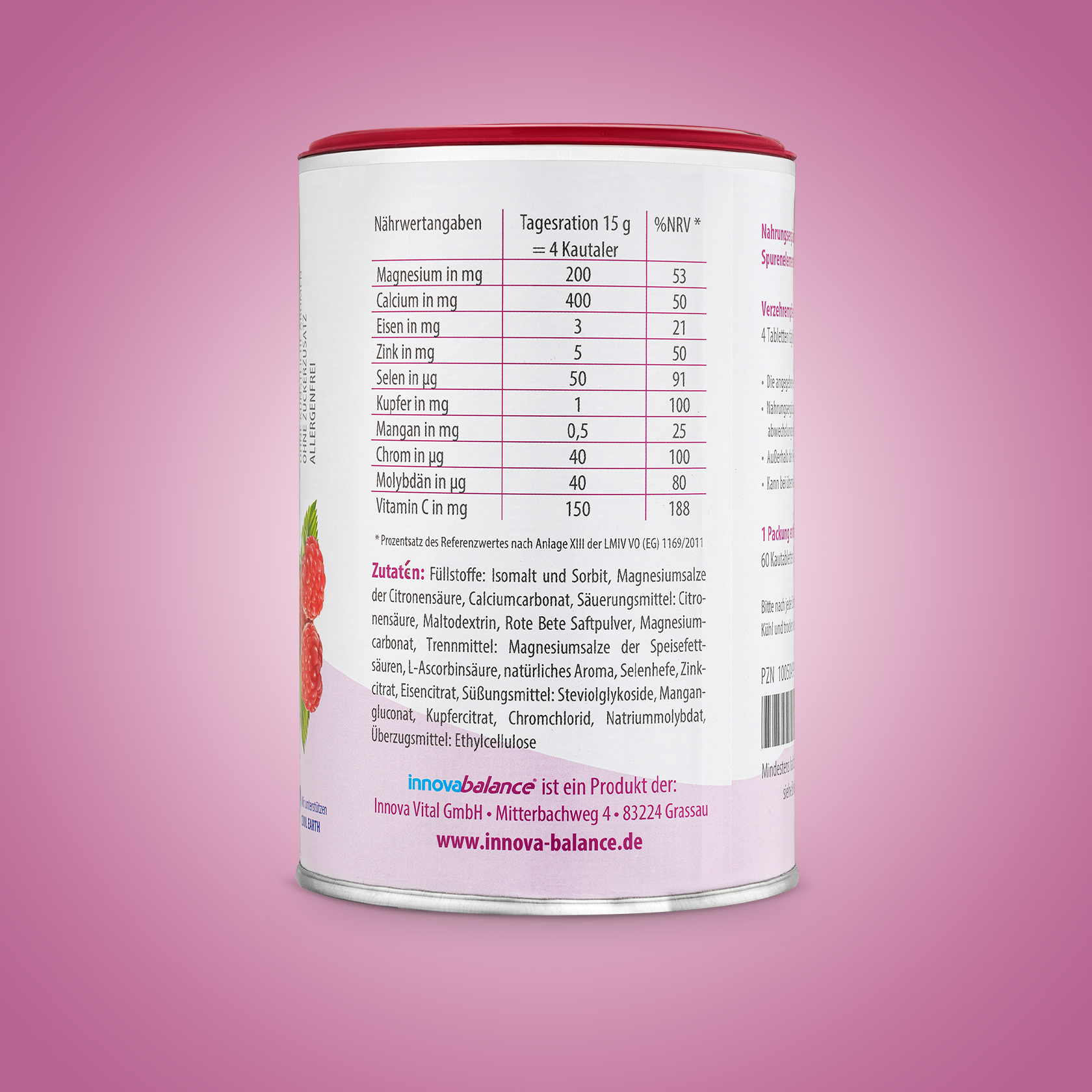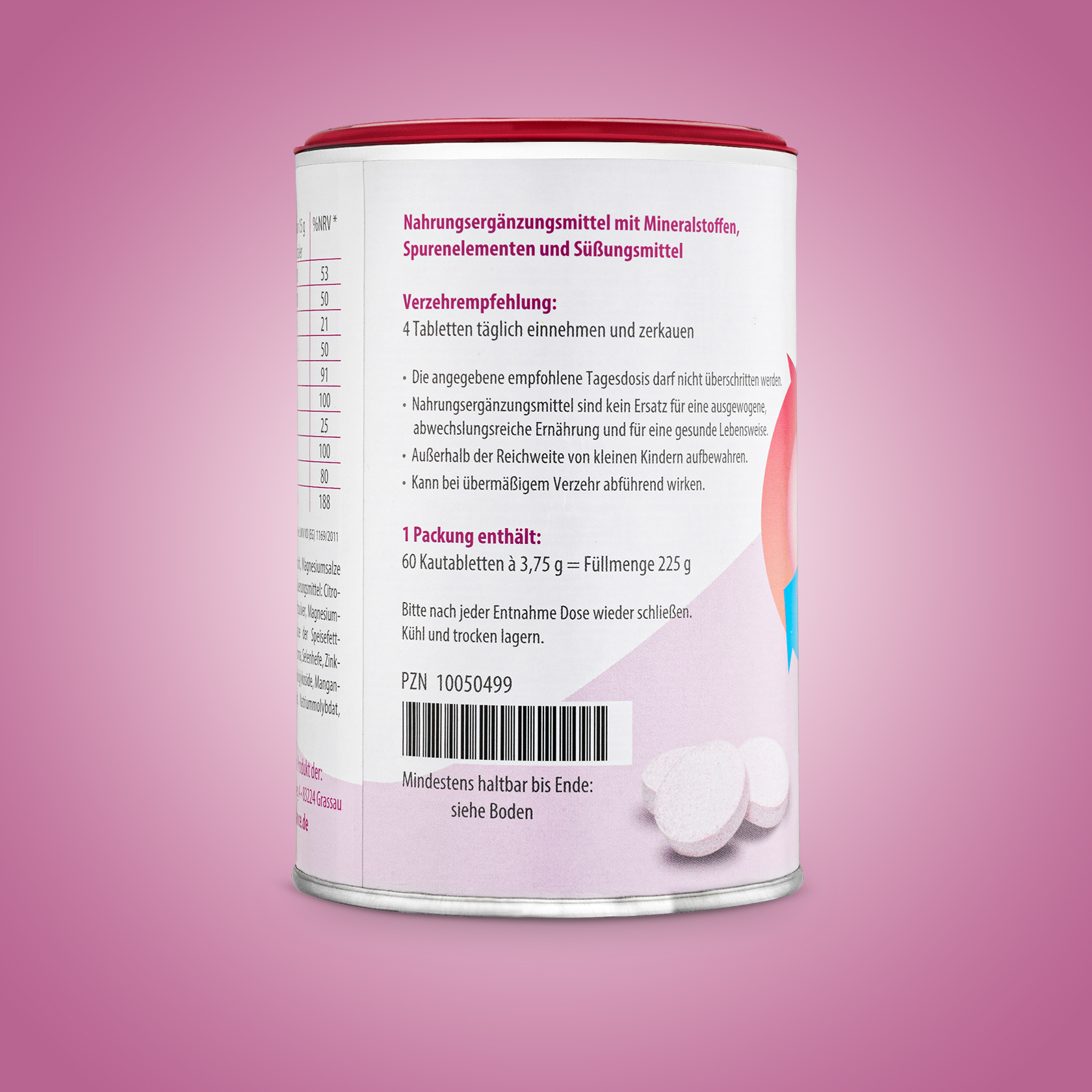 innovabalance® - Chewable Tablets
1 package:
contains 60 chewing tablets à 3,75 g
€21.47*
Price per kilogram €95.42
Available, delivery time 1-3 days
To support the acid-base balance
For example with:
Fatigue
Feeling of stress
Nervousness
Imbalance
restlessness
Reduced resilience
Lack of elasticity of skin and connective tissue
Muscle and joint complaints (e.g. caused by intensive sporting activity)
Products that are also suitable for children
More vitality and energy/less fatigue
Put my acid-base balance in order
Beauty-(skin, hair, nails)-a 'more vital/fresher look
Products for more quality of life - "Better Aging"
Products for athletes and active people
The best of raspberry with zinc - the delicious uncomplicated way to contribute to a normal acid-base metabolism. 60 chewables in a resealable tin for better shelf life. No artificial flavours, no added sugar, allergen-free.
Daily ration 15 g = 4 tabs
% *
Magnesium in mg
200

per 15 g

53

% *

Calcium in mg
400

per 15 g



50

% *

Iron in mg
3

per 15 g



21

% *

Zinc in mg
5

per 15 g



50

% *

Selenium in µg
50

per 15 g



91

% *

Copper in µg
1000

per 15 g



100

% *

Manganese in mg
0,5

per 15 g



25

% *

Chromium in µg
40

per 15 g



100

% *

Molybdenum in µg
40

per 15 g



80

% *

Vitamin C in mg
150

per 15 g



188

% *
* Percentage of reference value according to Appendix 1 of the German Nutritional Labelling Regulations for Foodstuffs (NKV)
Ingredients
Bulking agents: Isomalt and sorbitol, magnesium salts of citric acid, calcium carbonate, acidifier: citric acid, maltodextrin, beetroot juice powder, magnesium carbonate, anti-caking agent: Magnesium salts of fatty acids, L-ascorbic acid, natural flavouring, selenium yeast, zinc citrate, iron citrate, sweetener: steviol glycosides, manganese gluconate, copper citrate, chromium chloride, sodium molybdate, glazing agent: ethyl cellulose.

May have a laxative effect if consumed in excess. With sweetener.
Recommendation for use:
Take 6 tablets throughout the day
Do not exceed the recommended daily dose. Food supplements are not a substitute for a balanced, varied diet and a healthy lifestyle.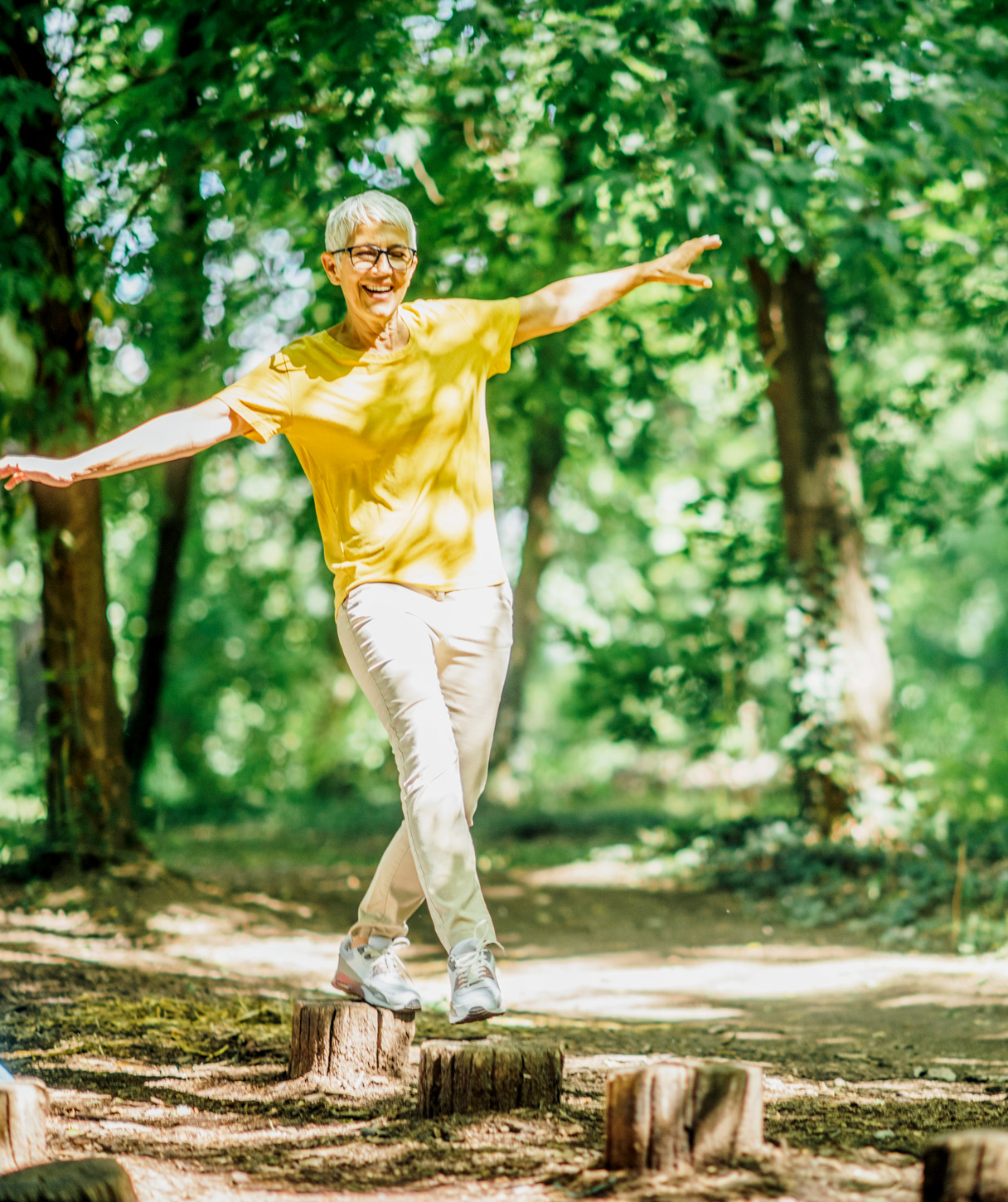 For a balanced acid-base balance
Acids and bases must be in balance with each other. Although acids are also necessary for life, a neutral or slightly alkaline environment is predominant in most parts of our body. The only exceptions are the stomach, whose acidity is necessary for digestive processes, and the skin, whose acidic environment forms a protective barrier against external germs.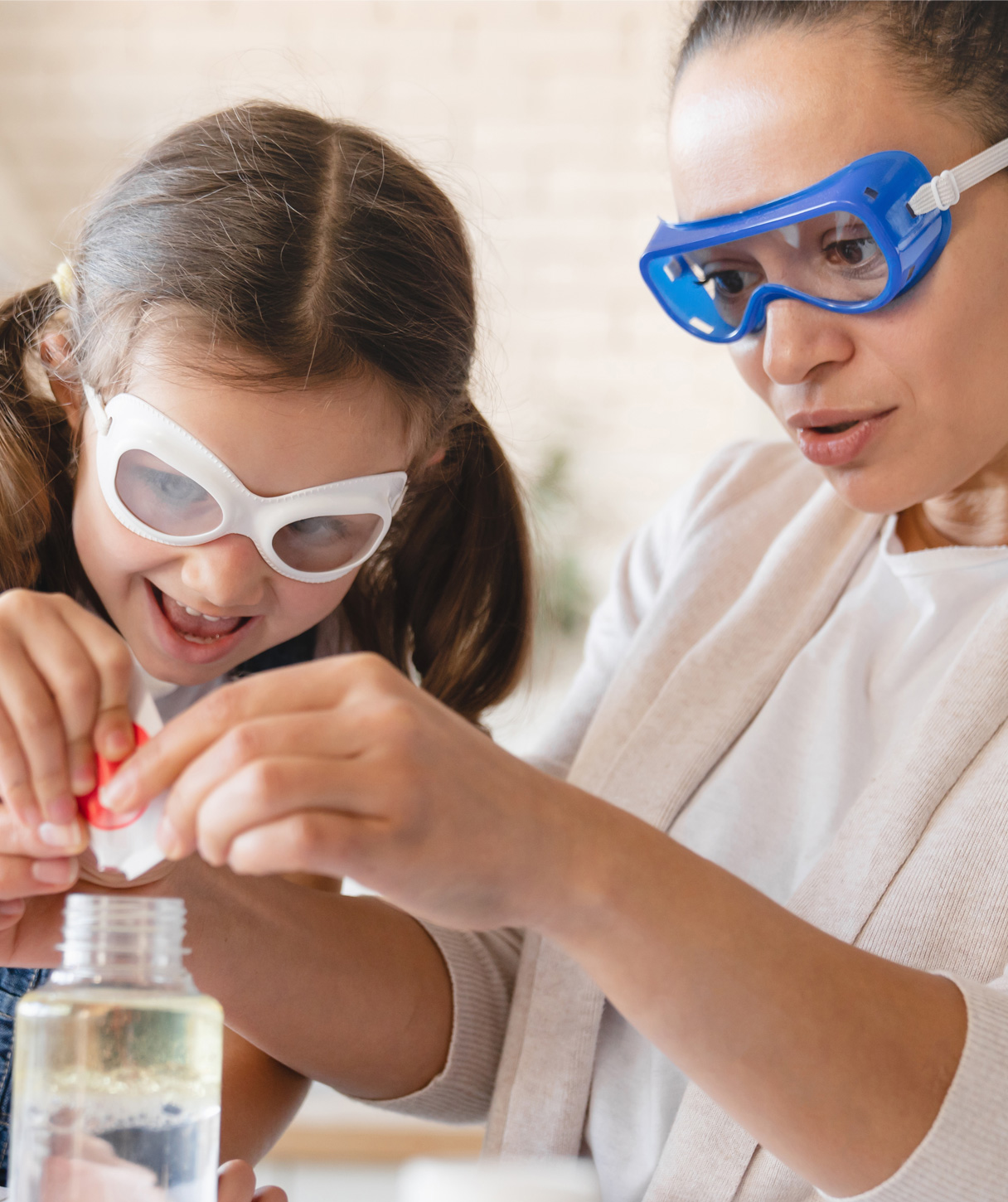 Too much acid makes you sick
If the body's balancing systems do not succeed sufficiently in maintaining the delicate balance between acids and bases in the body's tissues, the course of metabolic processes can be disturbed. The main cause of chronic hyperacidity is in particular an excess of acidic foods, lack of exercise, environmental toxins and stress.
Recommended products